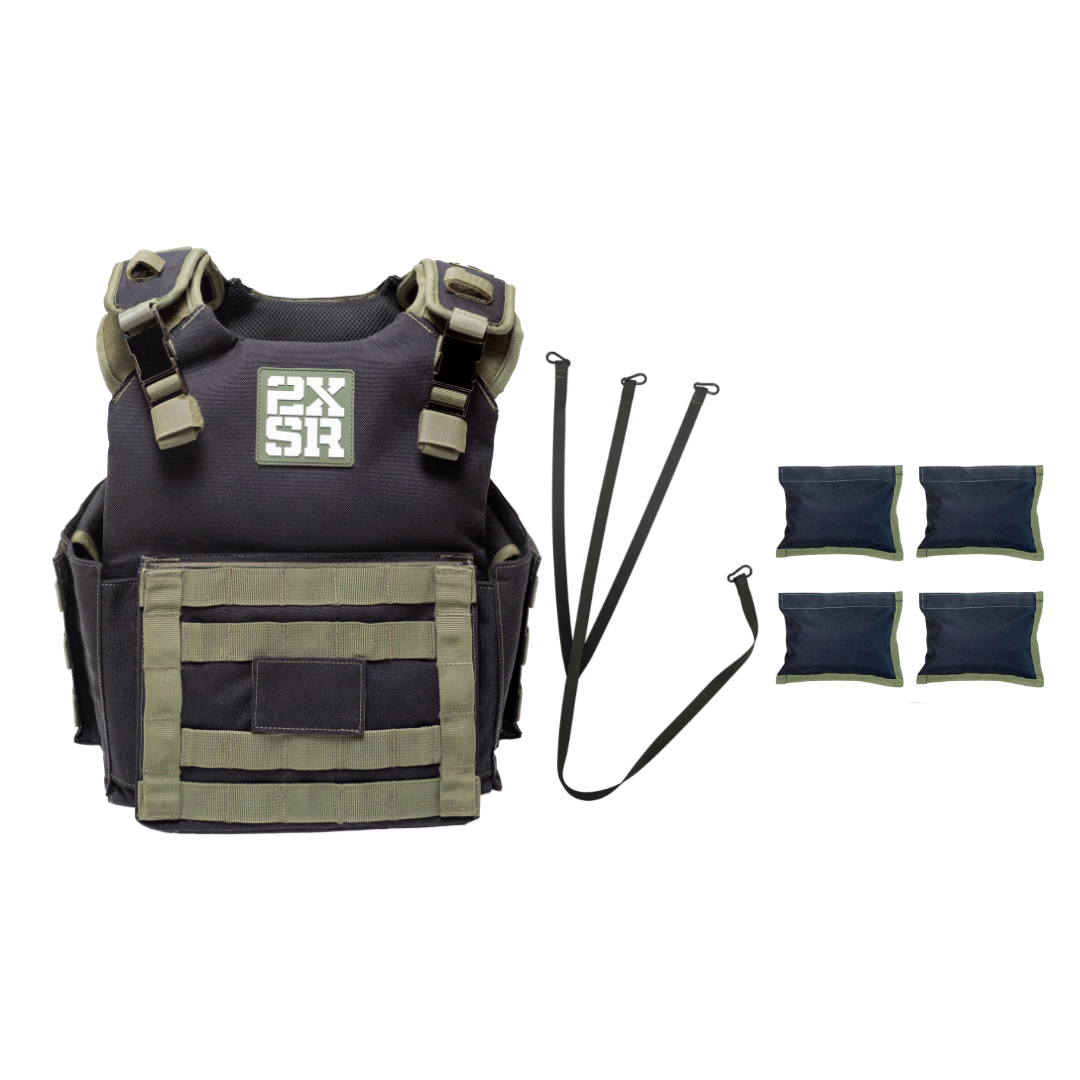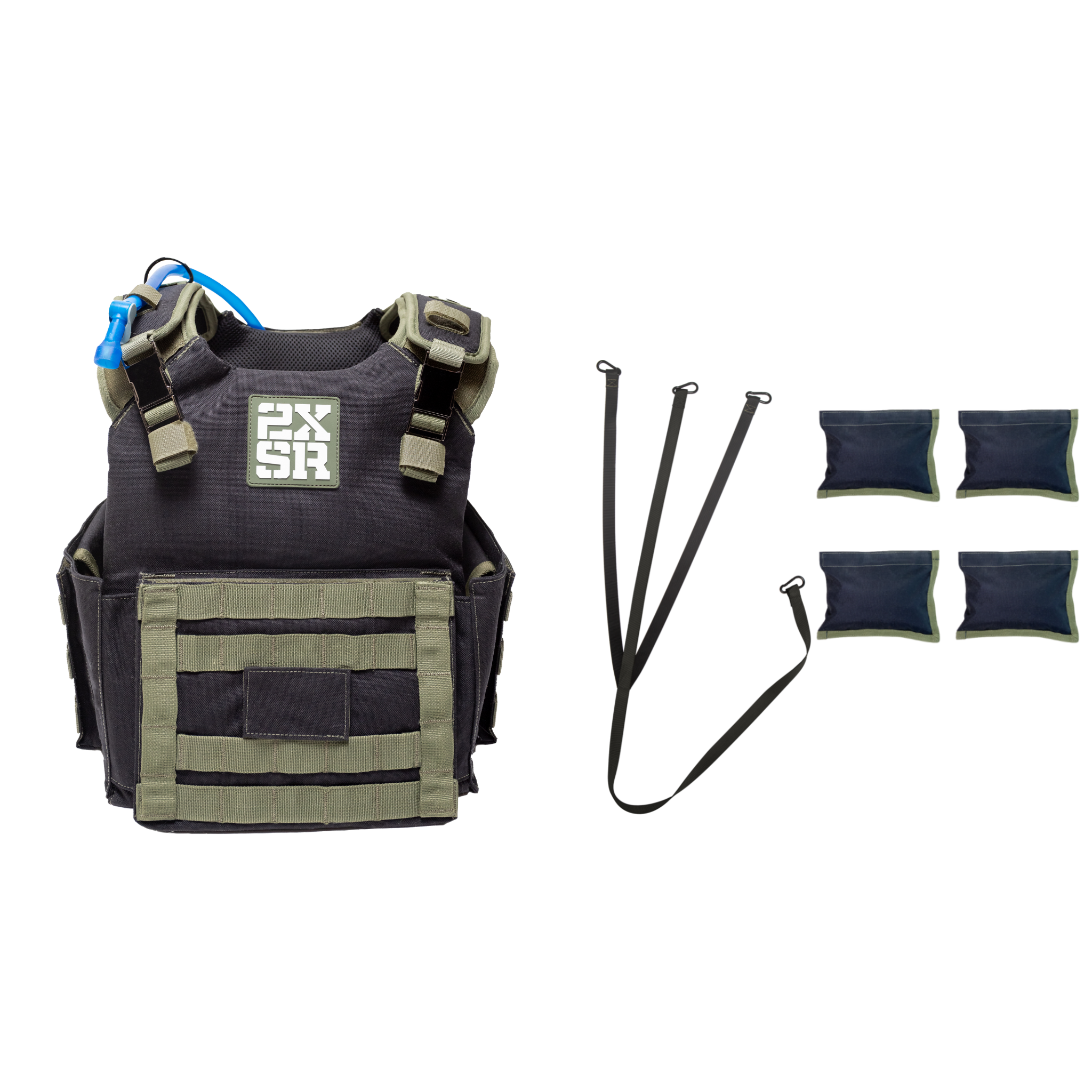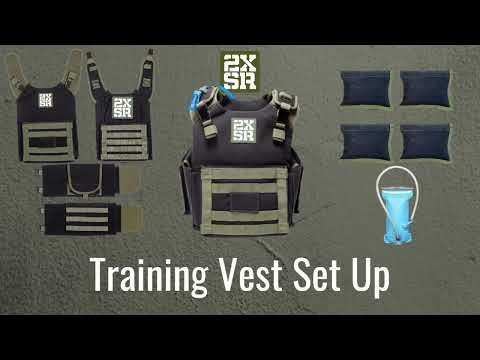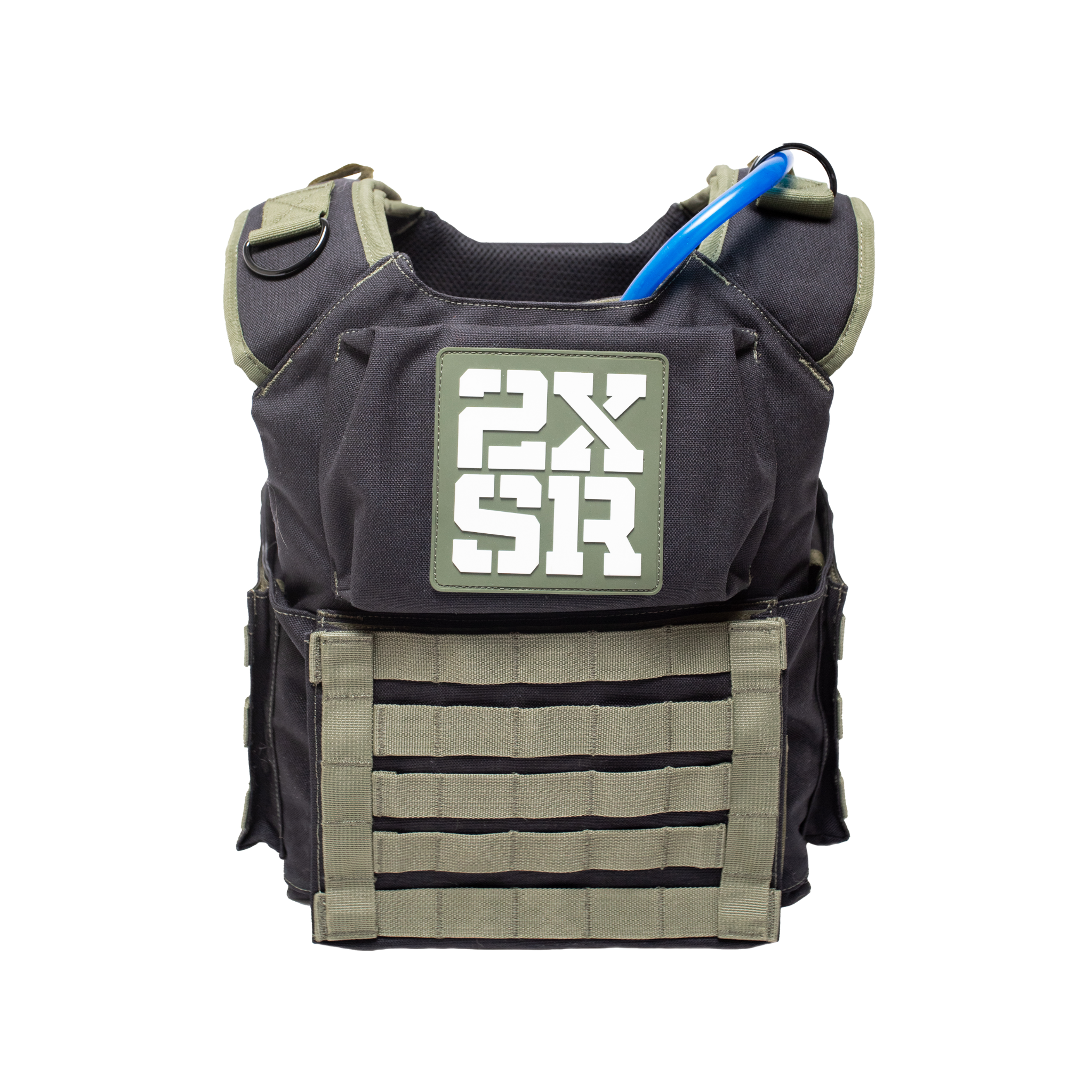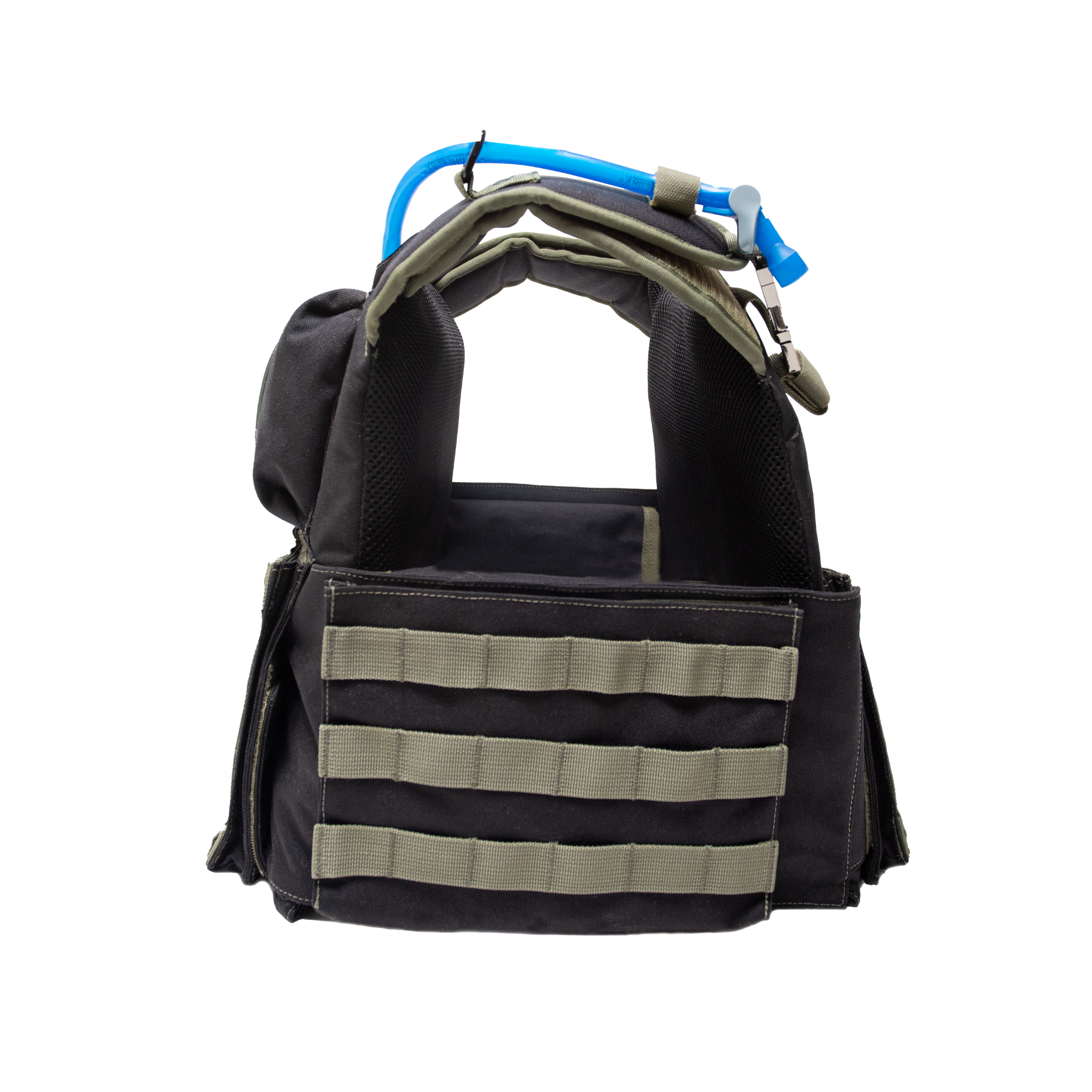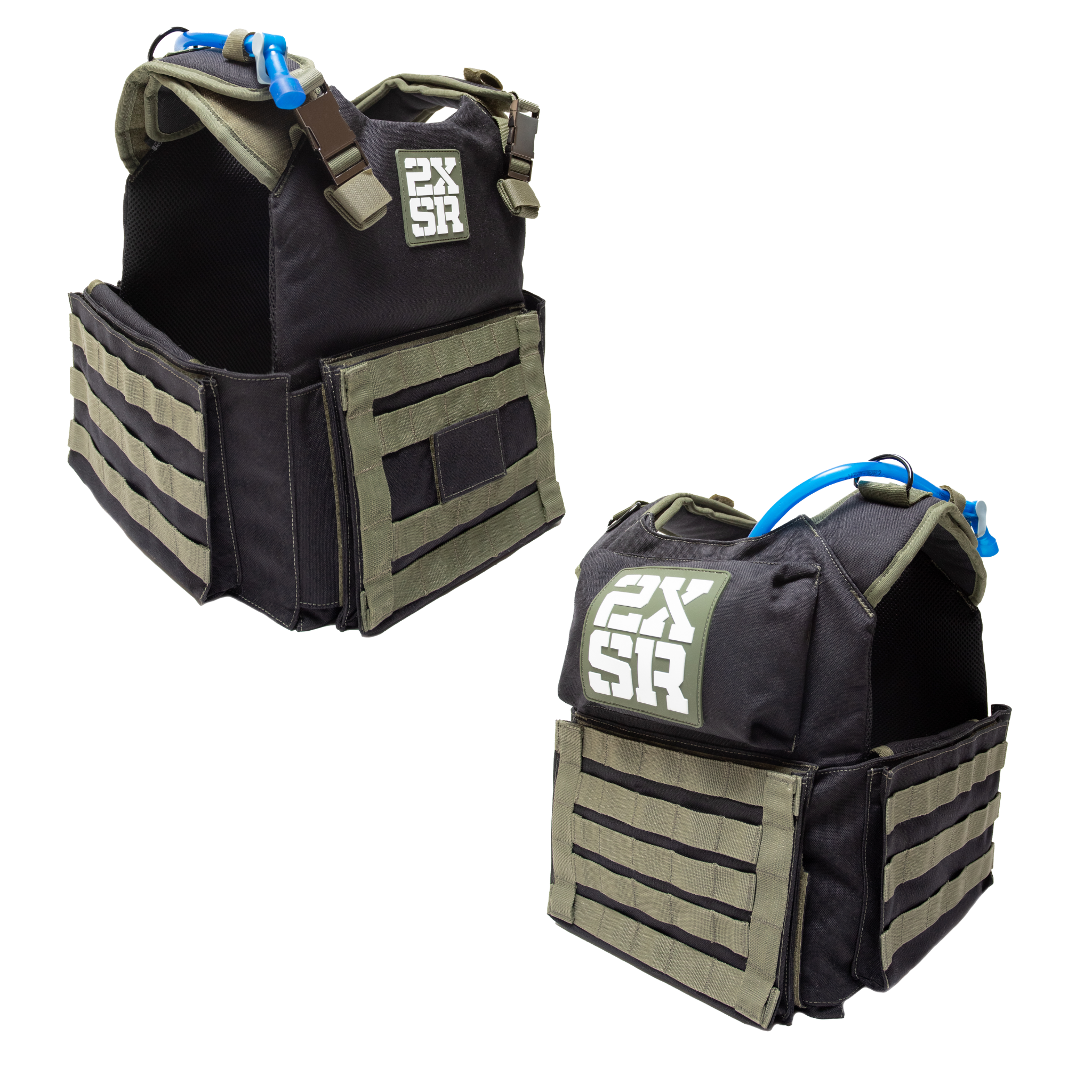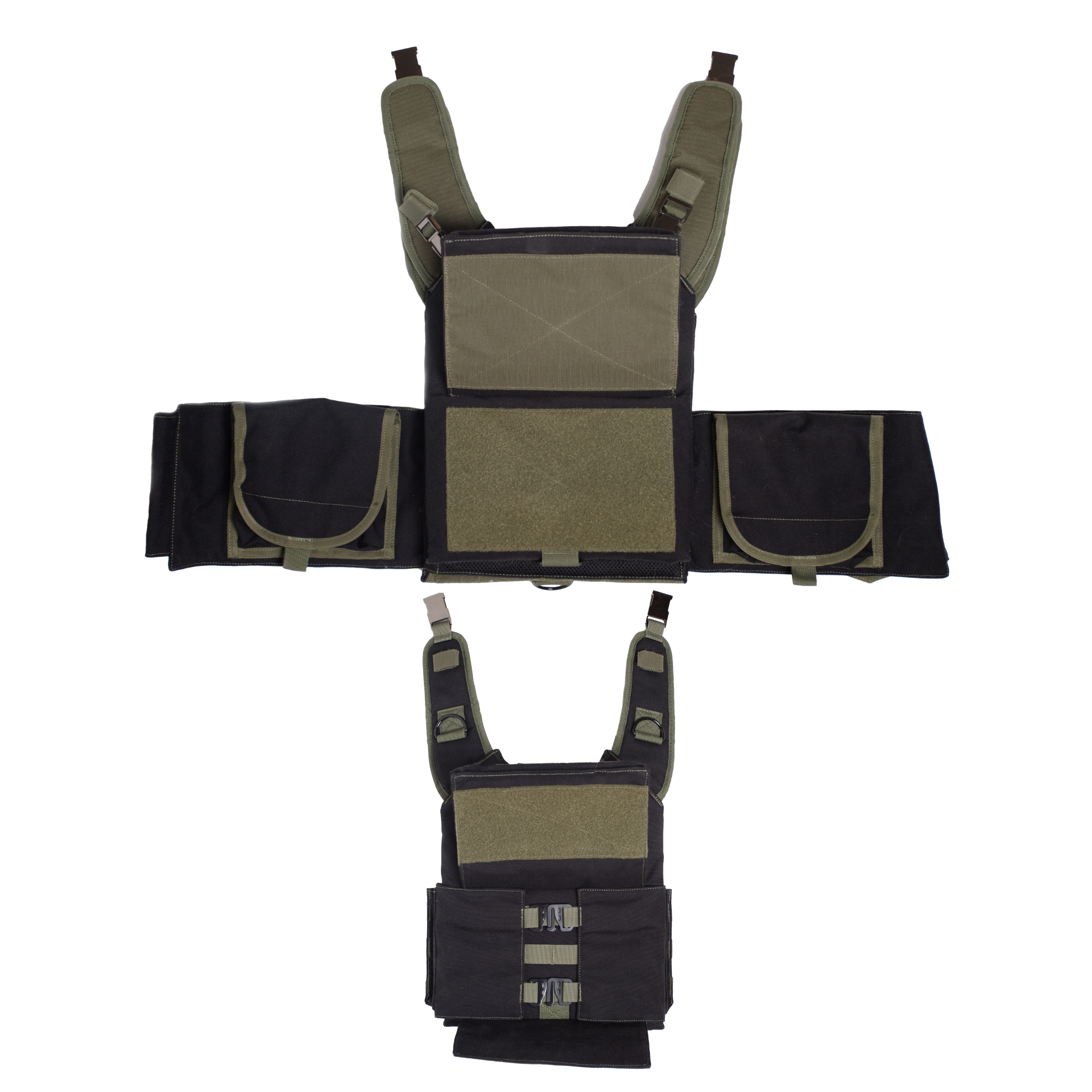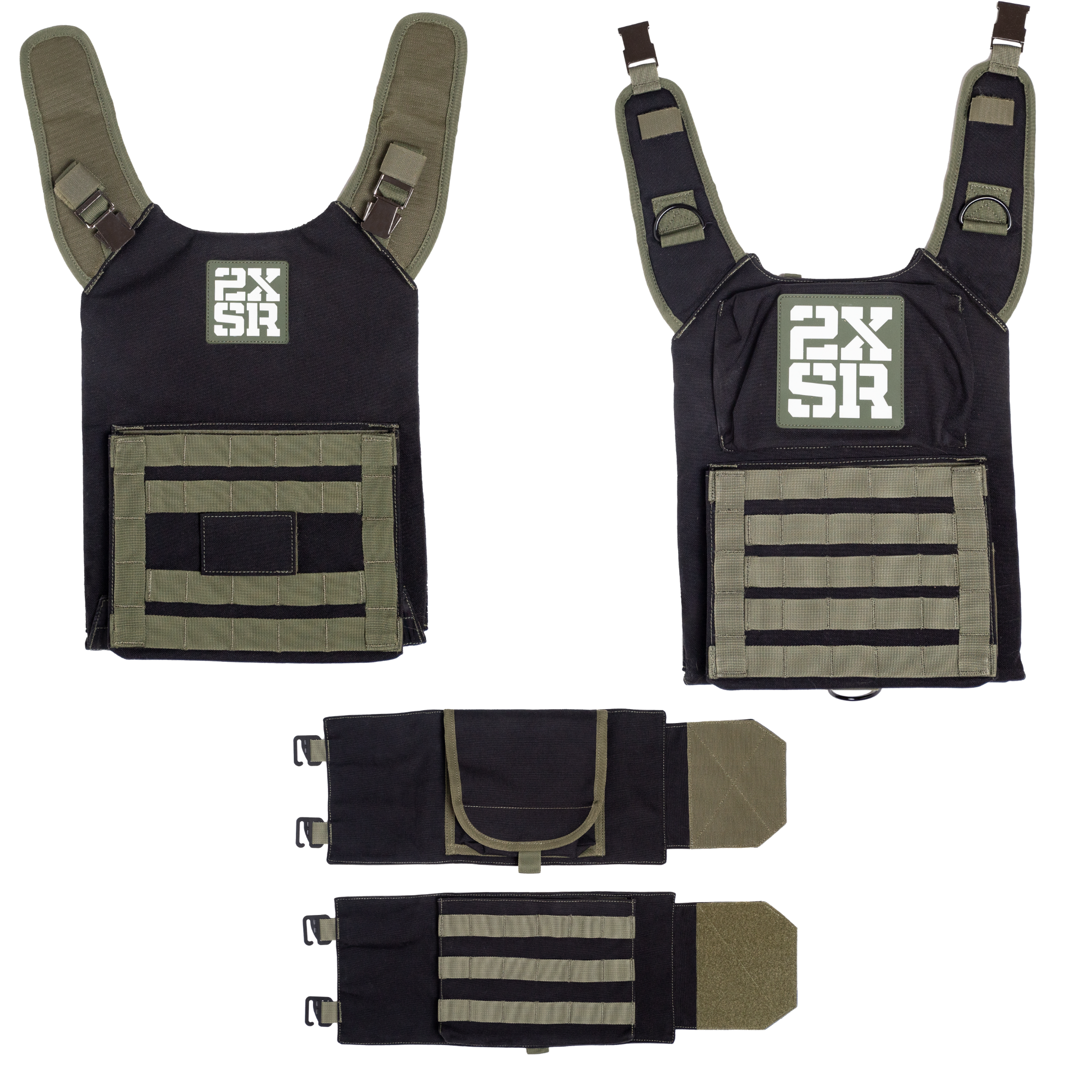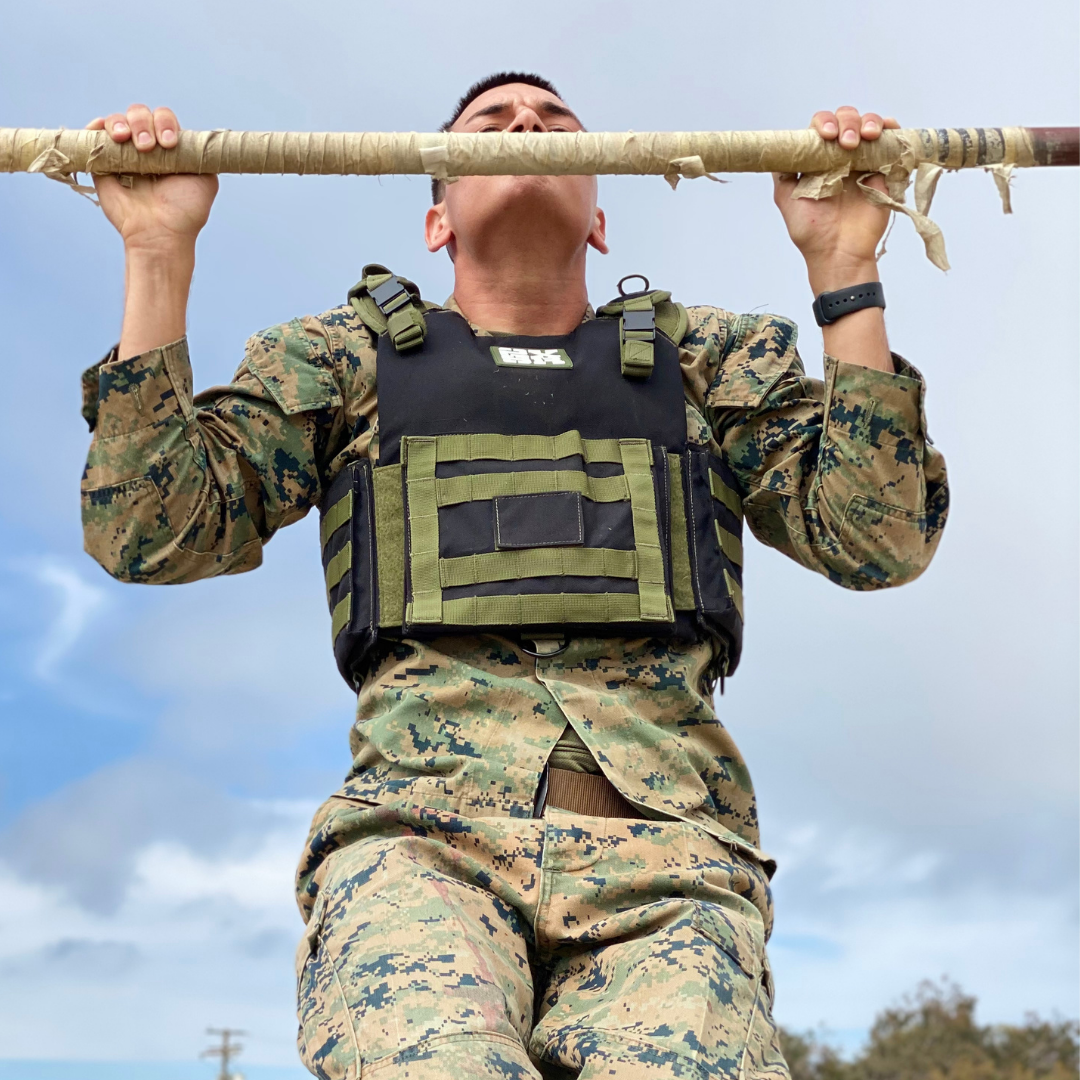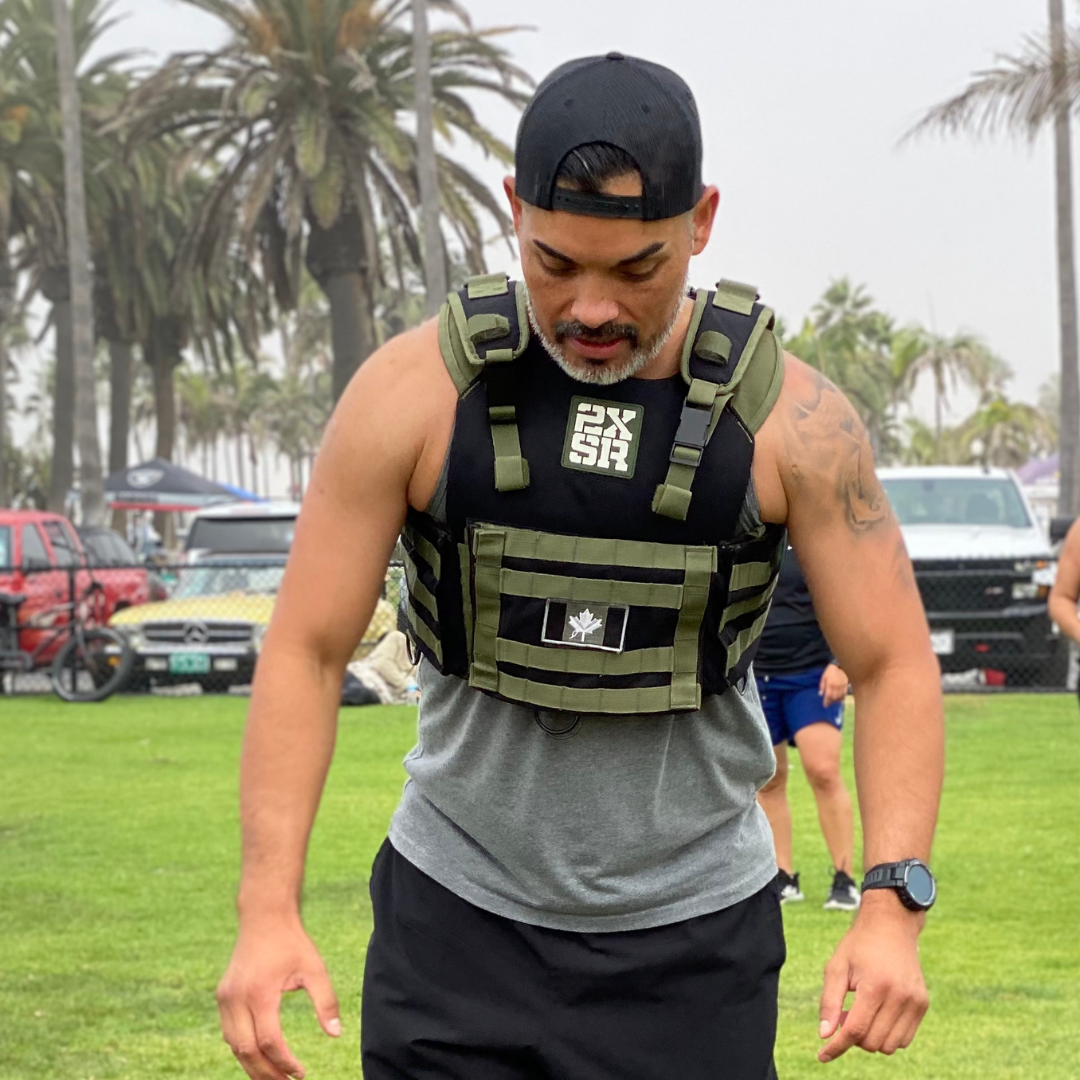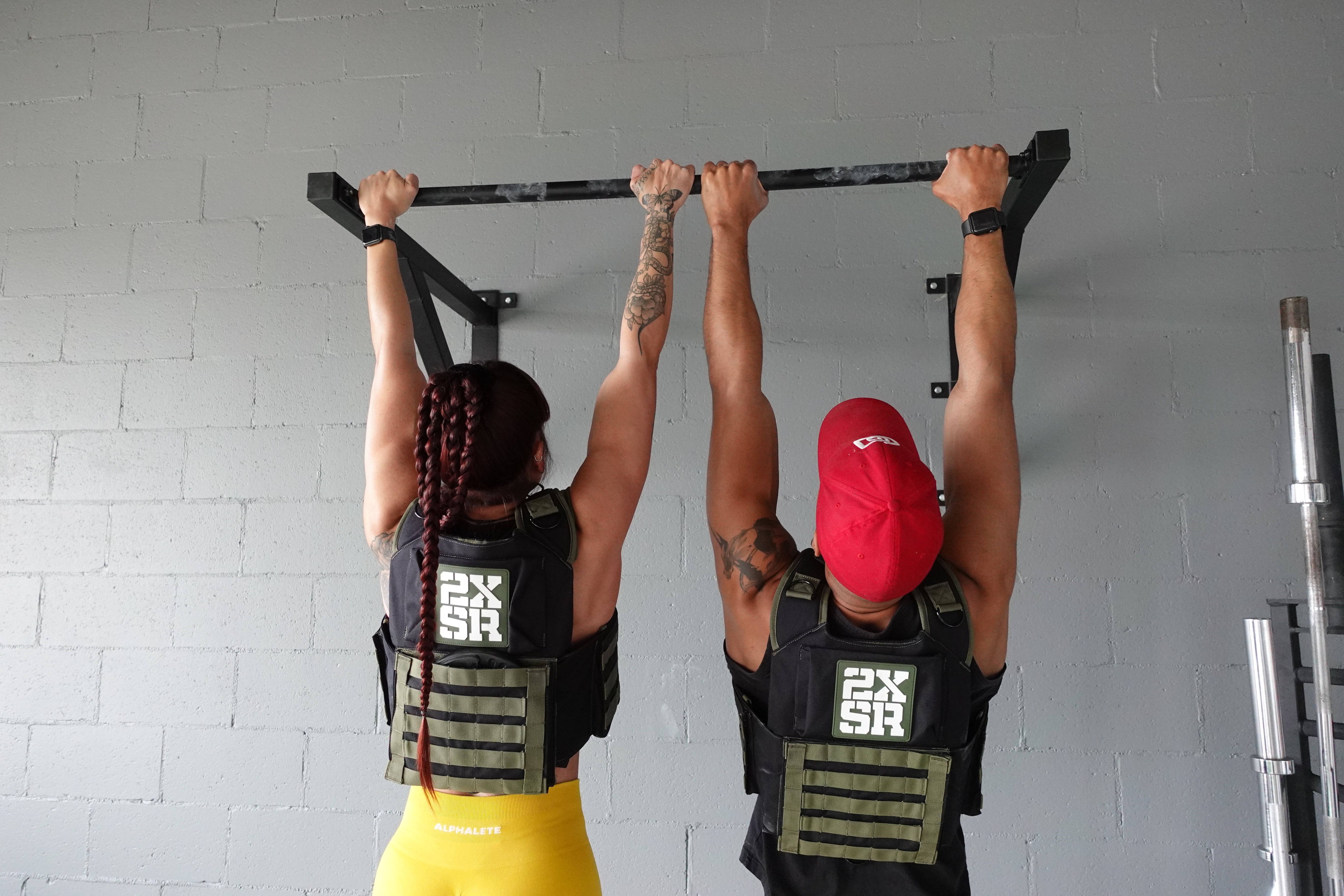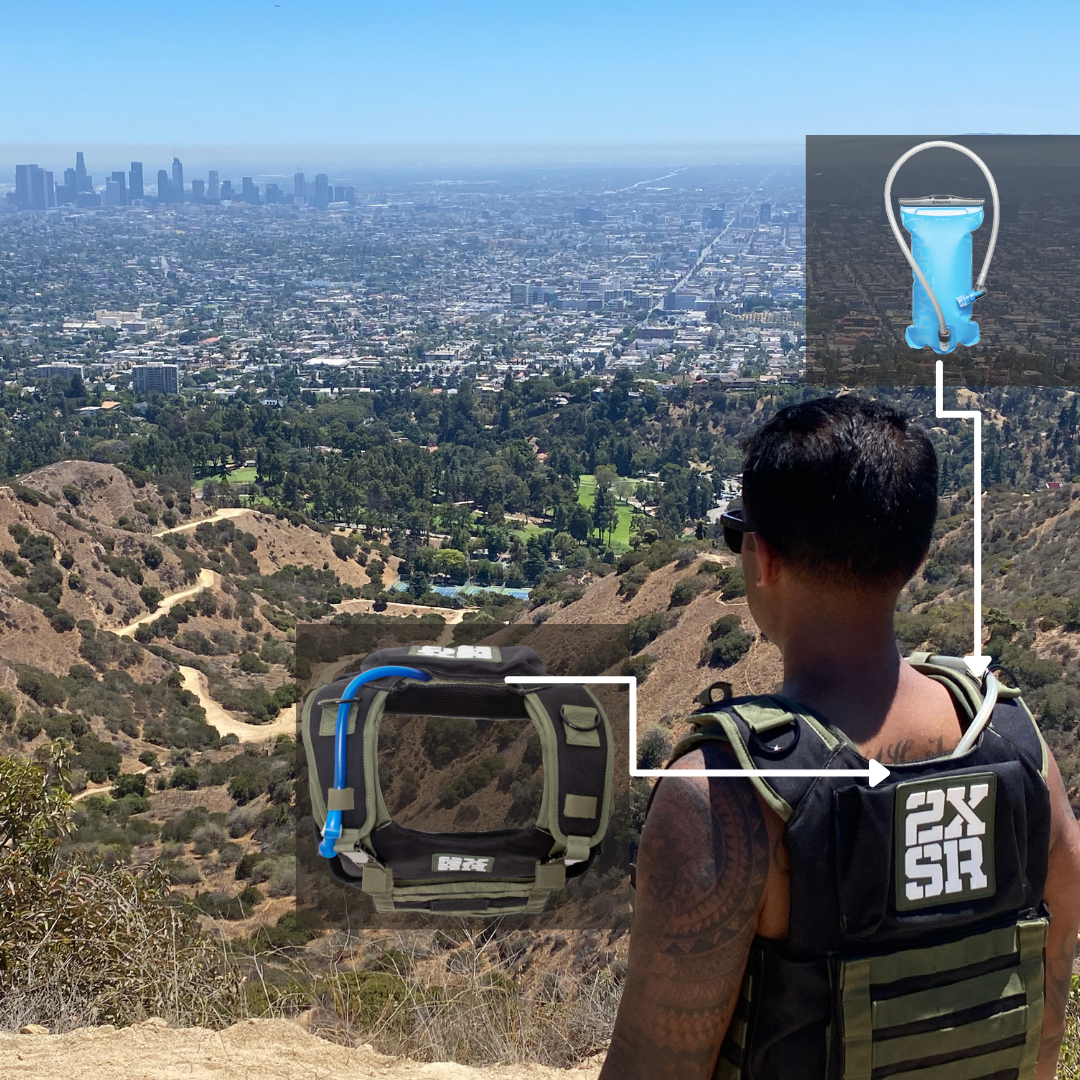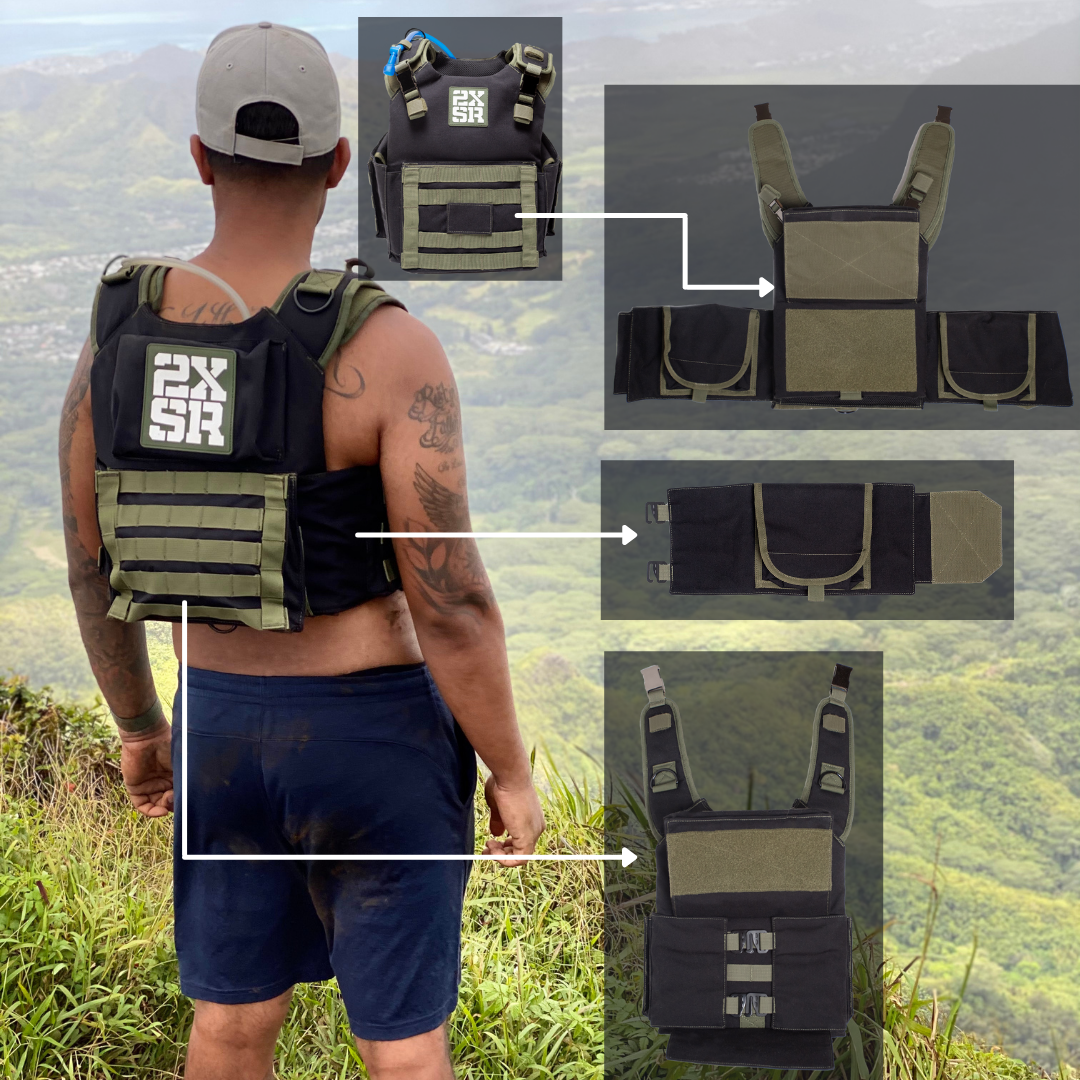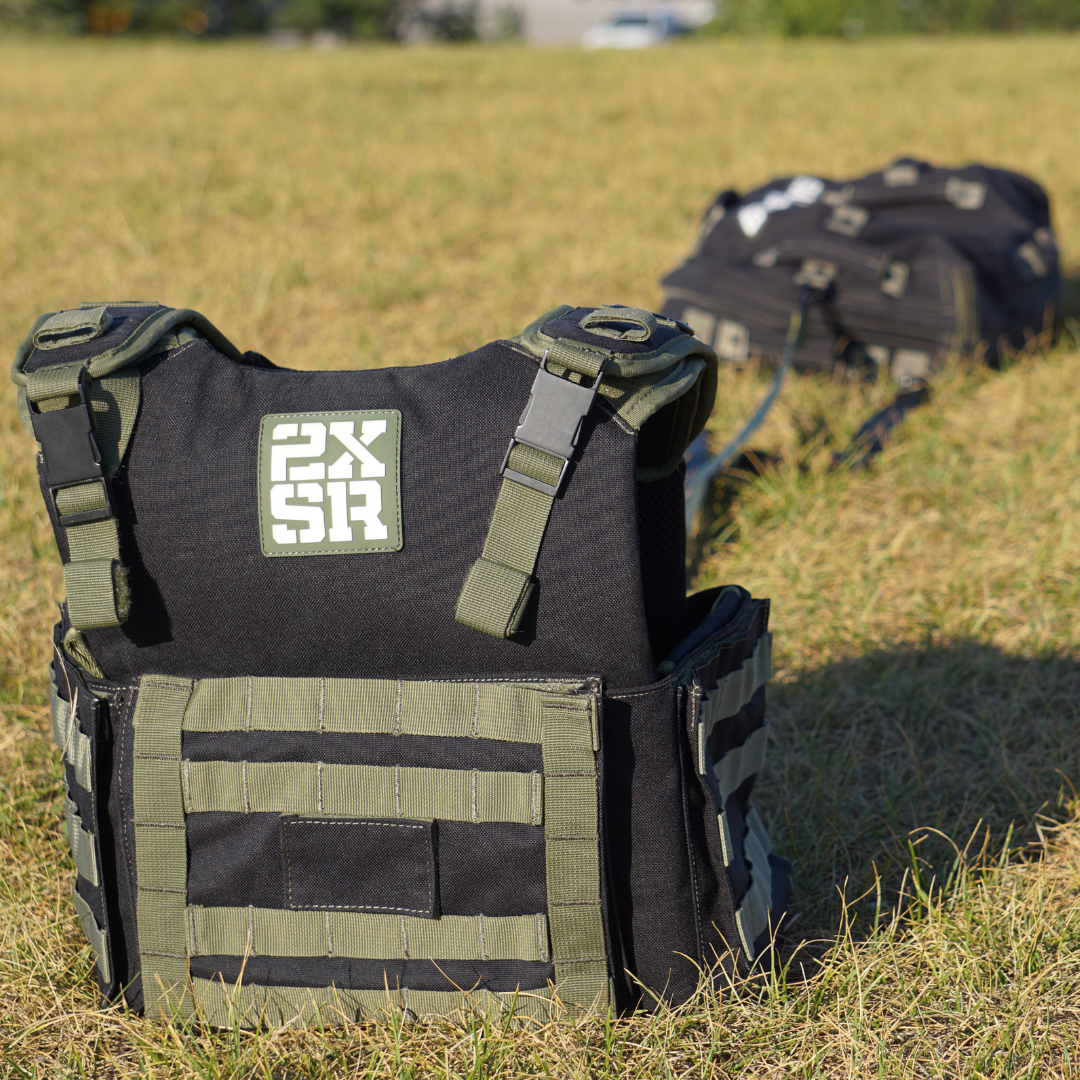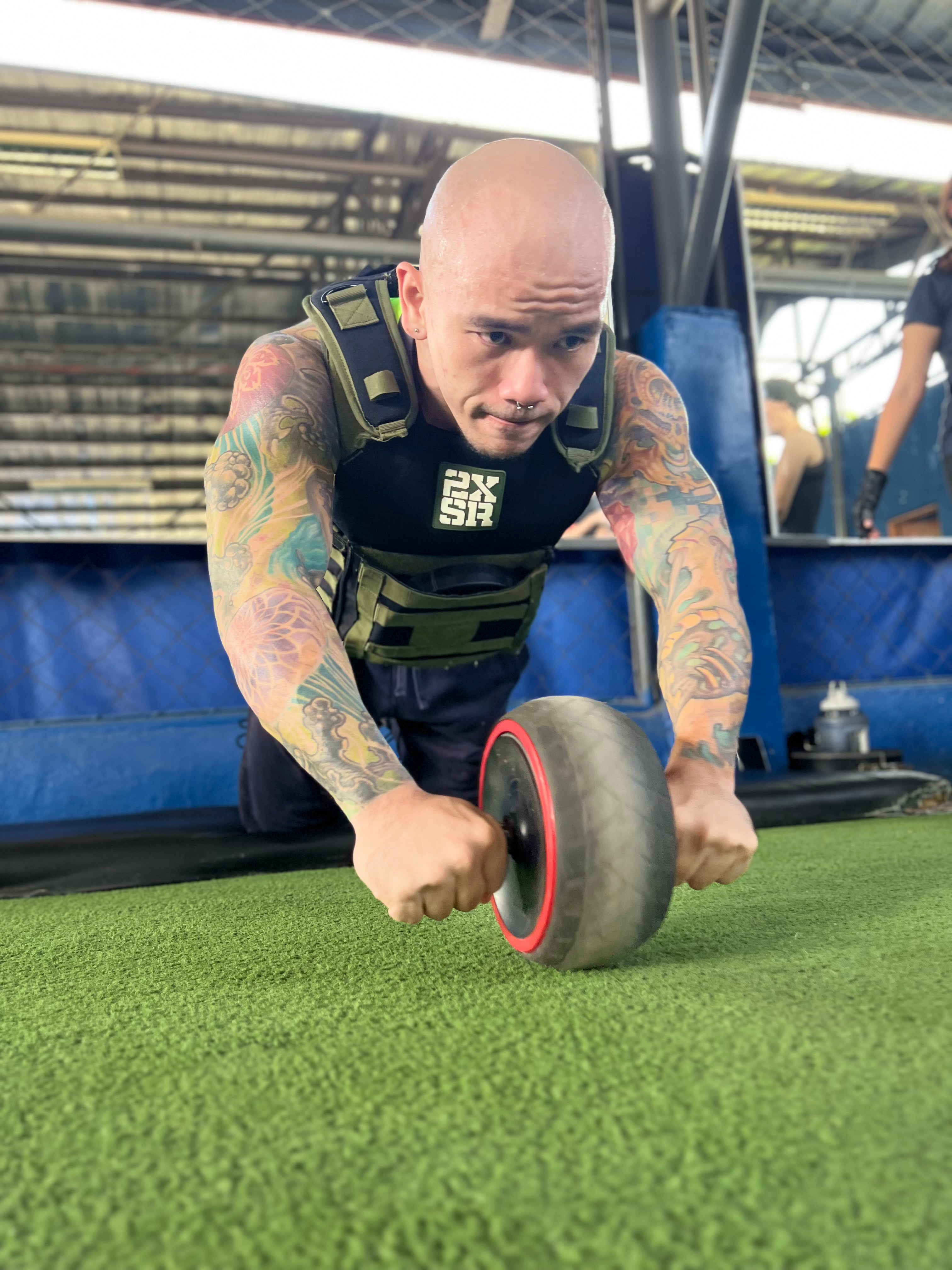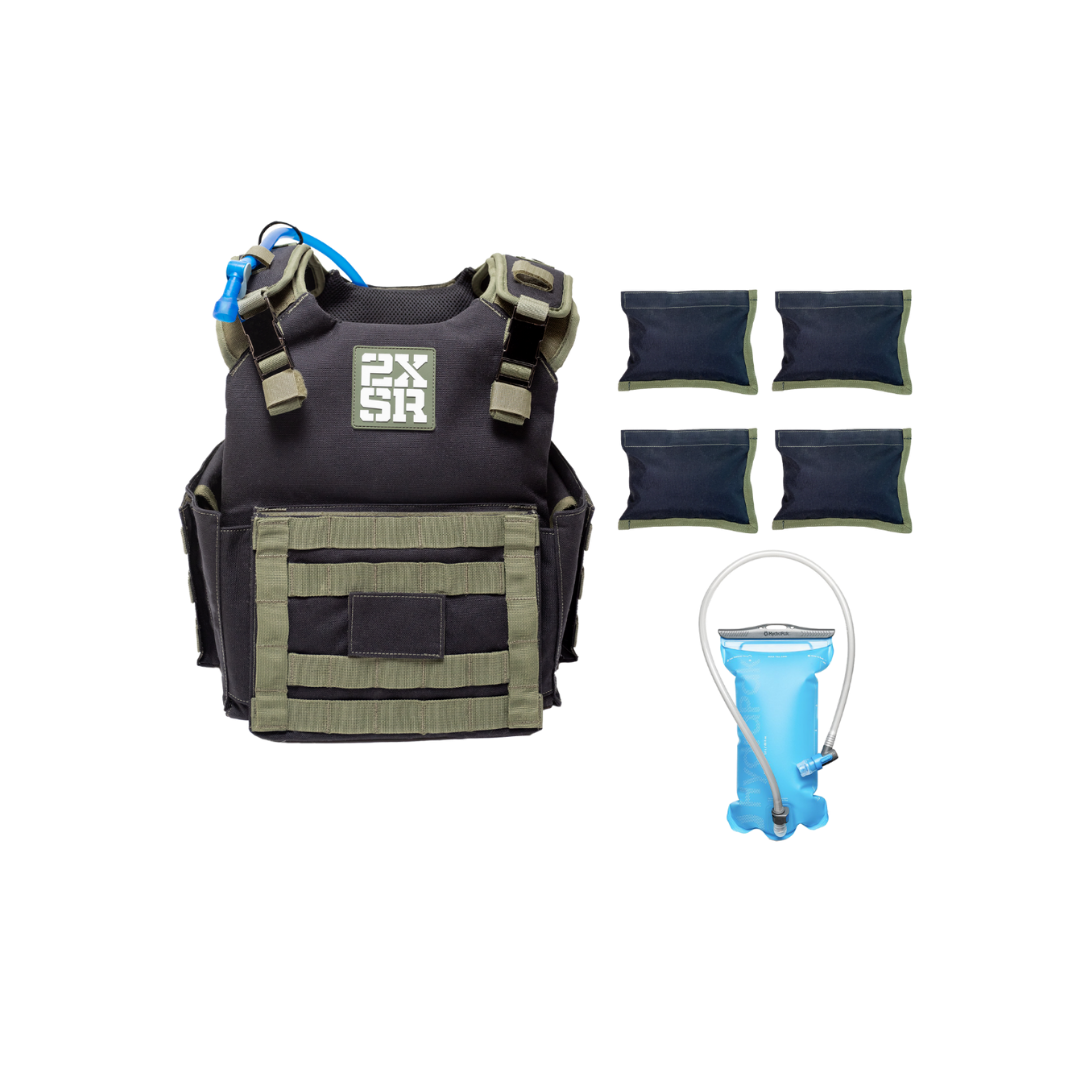 Training Vest
---
Lift, run, hike, climb and crawl while staying hydrated with the FIRST weighted vest and a removable hydration pack.

Hikers and climbers: Are you headed for a hike but want to carry around your water jug, camera, tripod and snacks without a heavy backpack?

12 compartments and a removable hydration pack (combo) 

Beginner to weight lifting? 4 sand pouches, weighing at 2.5LBS each (included)

Intermediate - advanced weight lifting: Two weight metal plate carrier underneath the front and back panel (not included).

2XSR Training Vest fully disassembles into 4 panels within seconds. 

Specifications:

Water repellent 1000D Nylon
Military grade Velcro
Metal rings
Metal buckles
Double layer of foam padding with breathable mesh

Functionalities:

Water repellent for underwater training without any damage
Four exterior compartments to add weight or to hold personal belongings
Three mini compartments in six compartments to hold small metal plates
Two exterior compartments to hold large weighted plates (up to 60LBS each)
Two interior pouches for personal belongings
One rear compartment to hold a hydration pack
Two woven tape straps to hold headphones or a hydration tube in place
Metal buckles and adjustable working straps for quick release for convenience to put on or take off without hesitation
3 mental rings for pulling and dragging exercises (Sand Training Bag recommended).
Countless Molle around the vest for attachments

2XSR is the only

 company that provides versatile, durable and plastic free fitness products, built for you and built to last.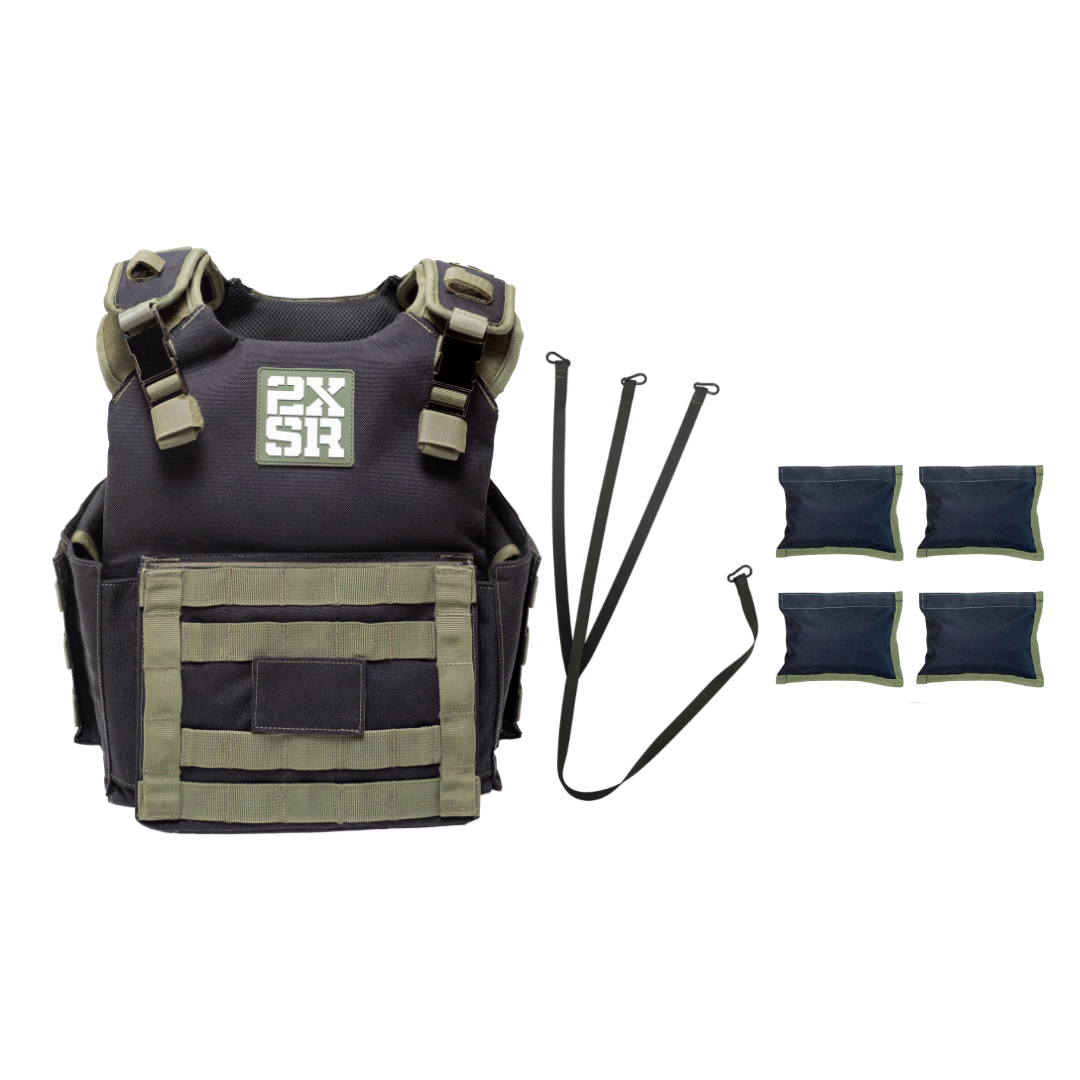 Trusted by Individuals in: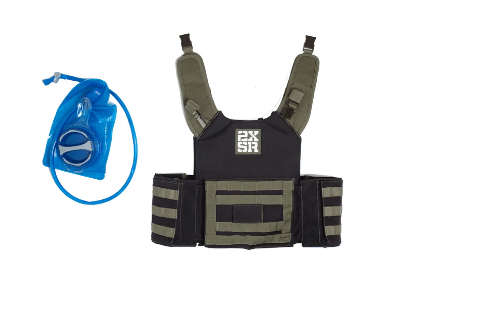 NO MATTER YOUR SIZE, ONE SIZE FITS ALL
Adjustable in size on all 4 panels
Adjustable in weight on all 12 compartments
Using a weighted vest helps increase your body's ability to balance because of the extra amount of weight on your upper body.
SET UP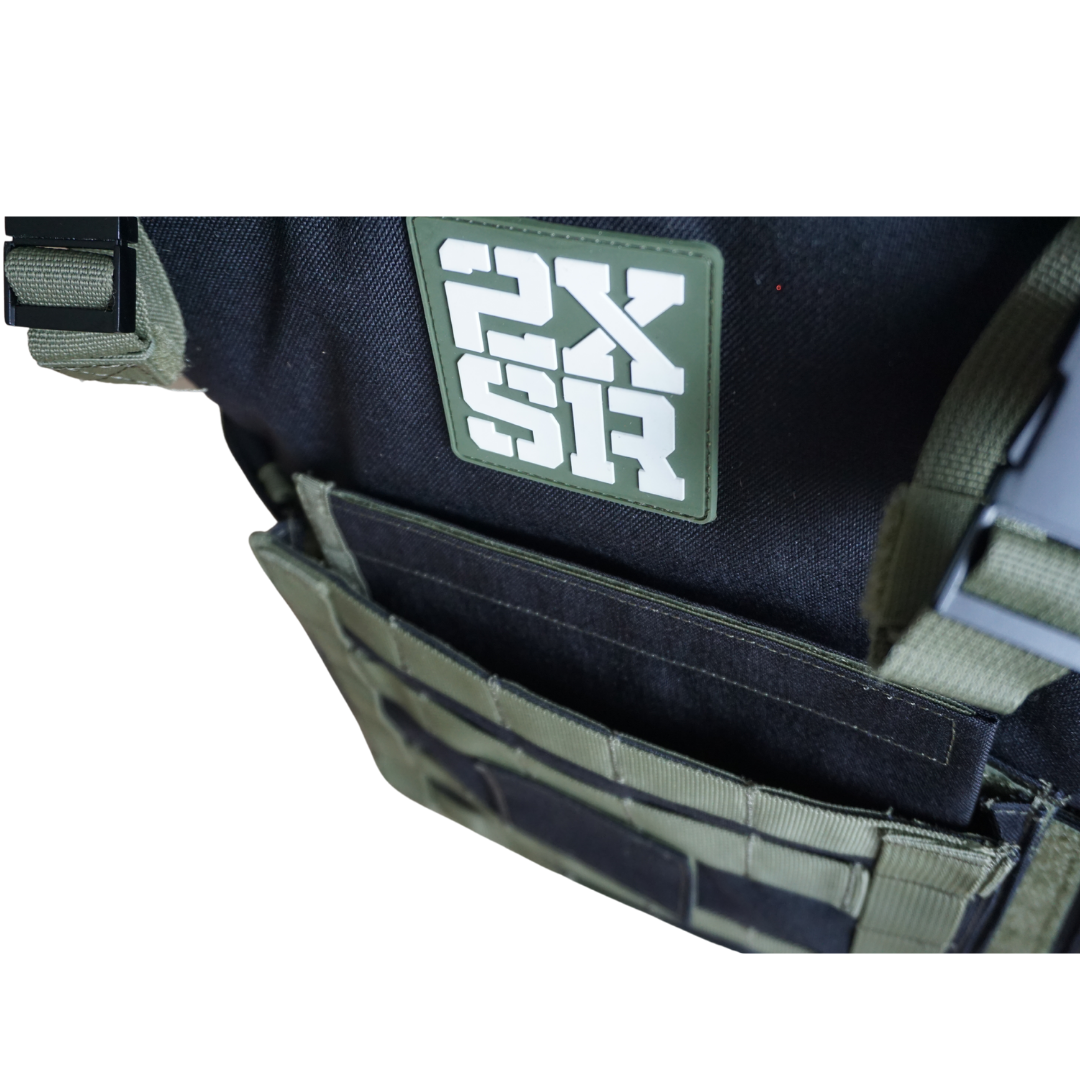 QUICK ACCESS
Unlike some comparable weighted vests or flak jackets in the industry, the Training Vest can hold medium and large ballistic plates and eco-friendly sand pouches—front, back and sides—without the restrictive bulkiness.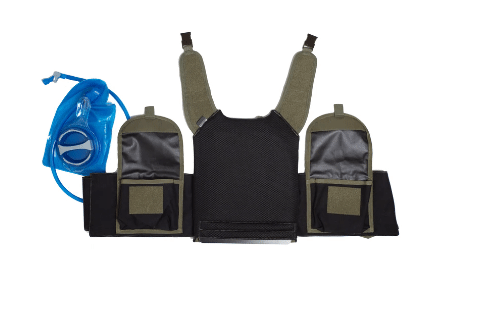 BEGINNER? INTERMEDIATE? ADVANCED? DOESN'T MATTER
Stack up! We refer our valued customers to a reputable company that provides high quality affordable plates.
Weight Plates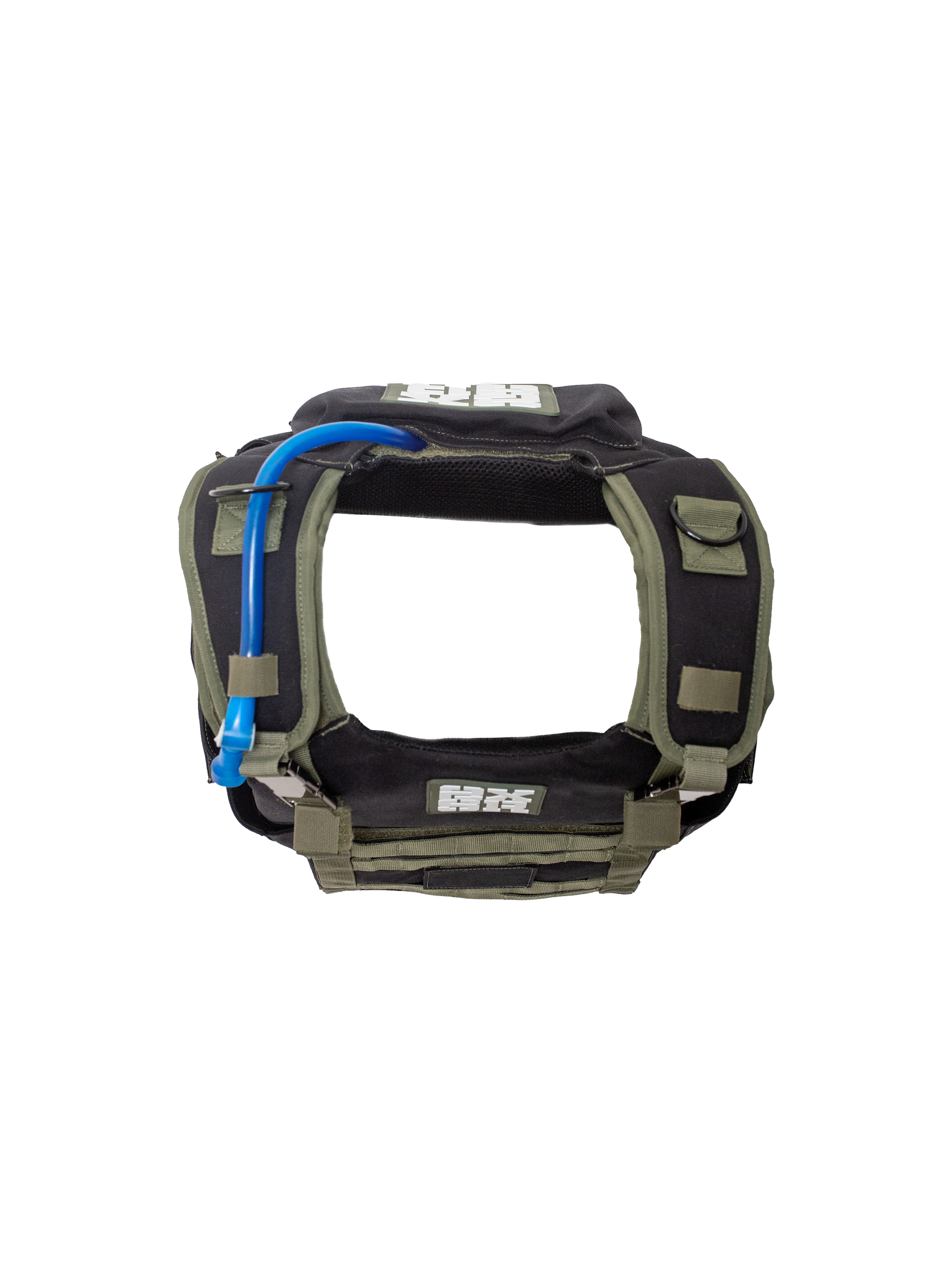 WORKOUT WITHOUT RESTRICTIONS AND HESITATION
Removable hydration pack (combo)
Staying hydrated increases energy & relieves fatigue.
Since your brain is mostly water, drinking it helps you think, focus and concentrate better and be more alert.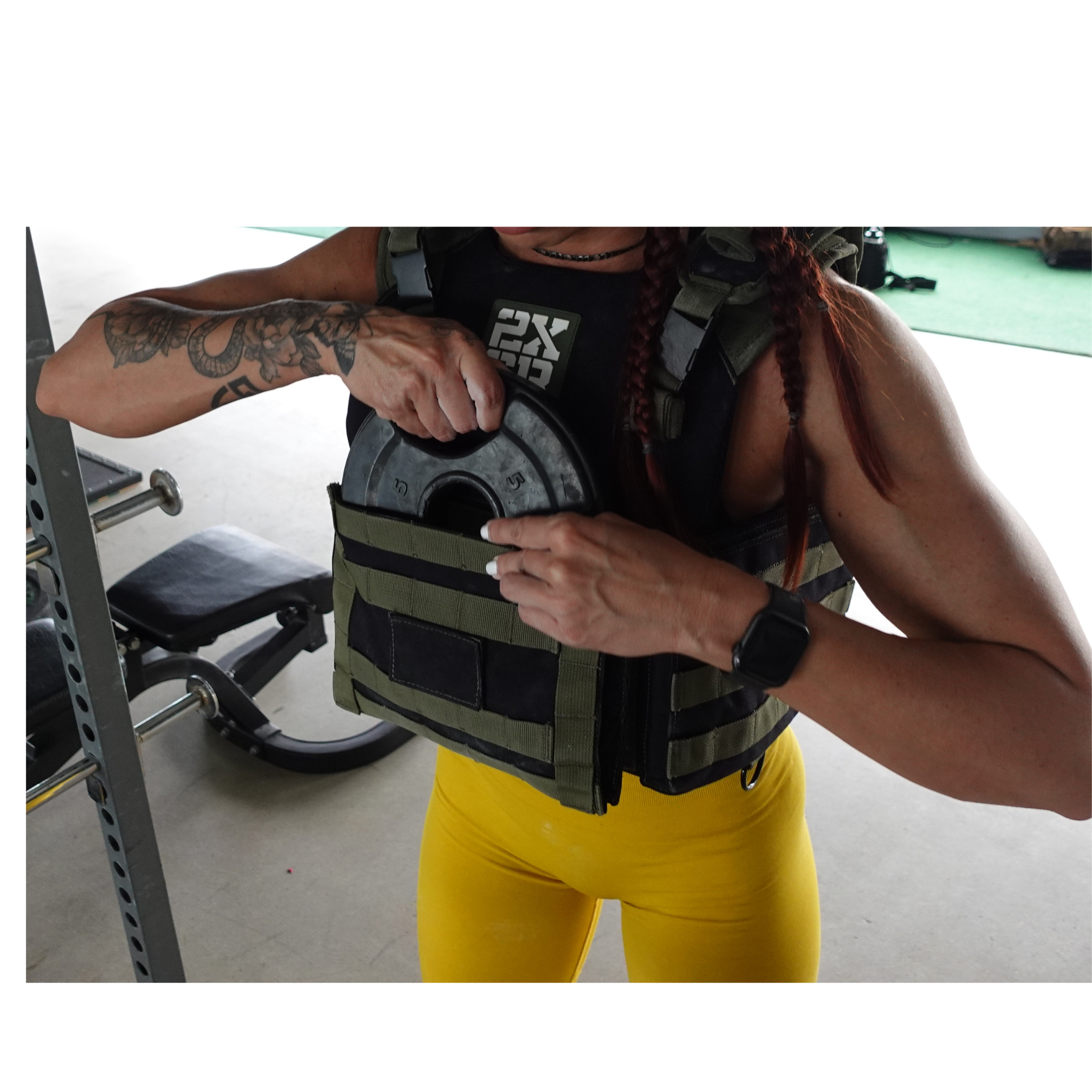 ENDLESS OPTIONS
Don't have access to metal plates or sand?
All four compartments can hold 5-10LBS barbell plates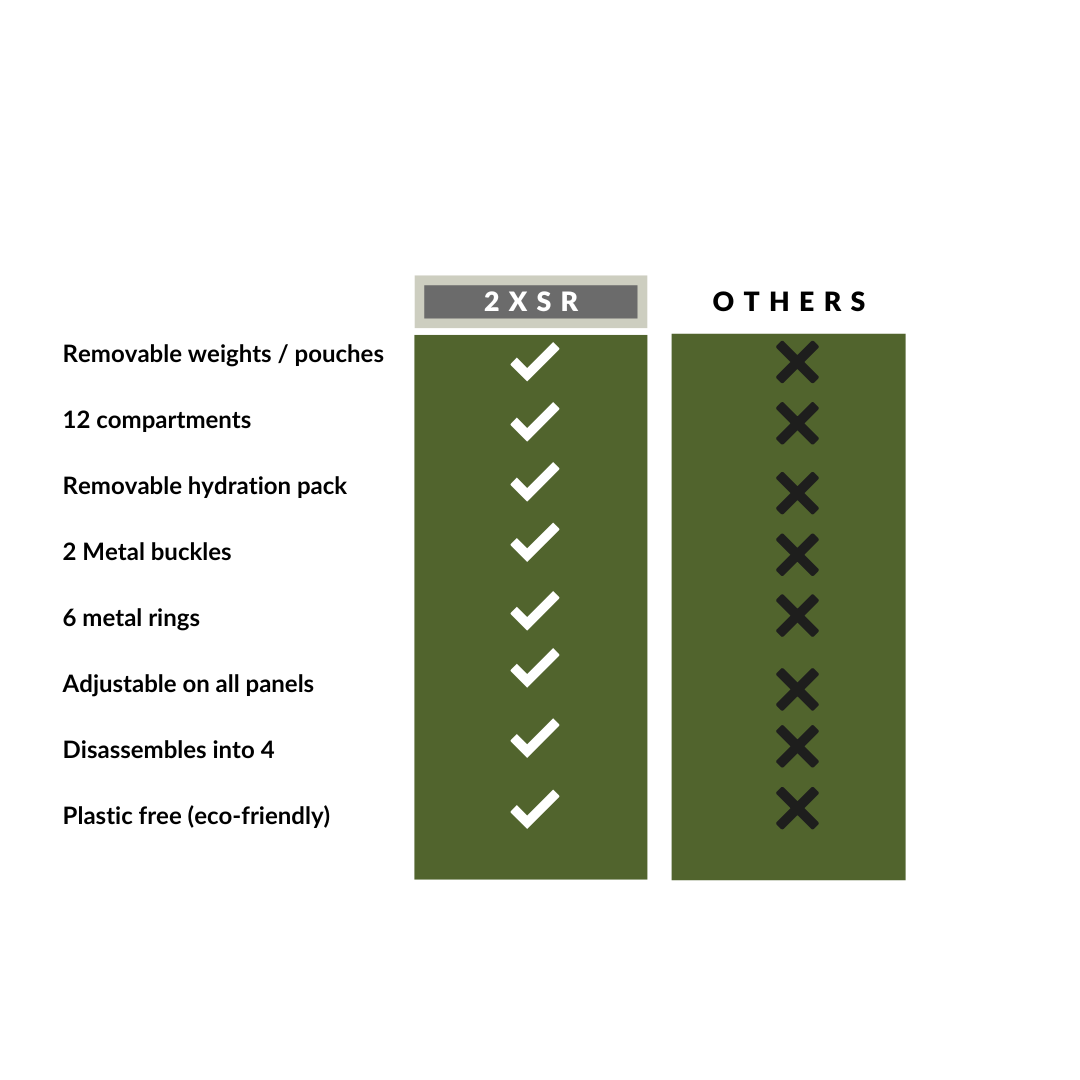 WHY US?
We believe every product should be functional, versatile, durable and innovated. We spend at least two years during the product development stage.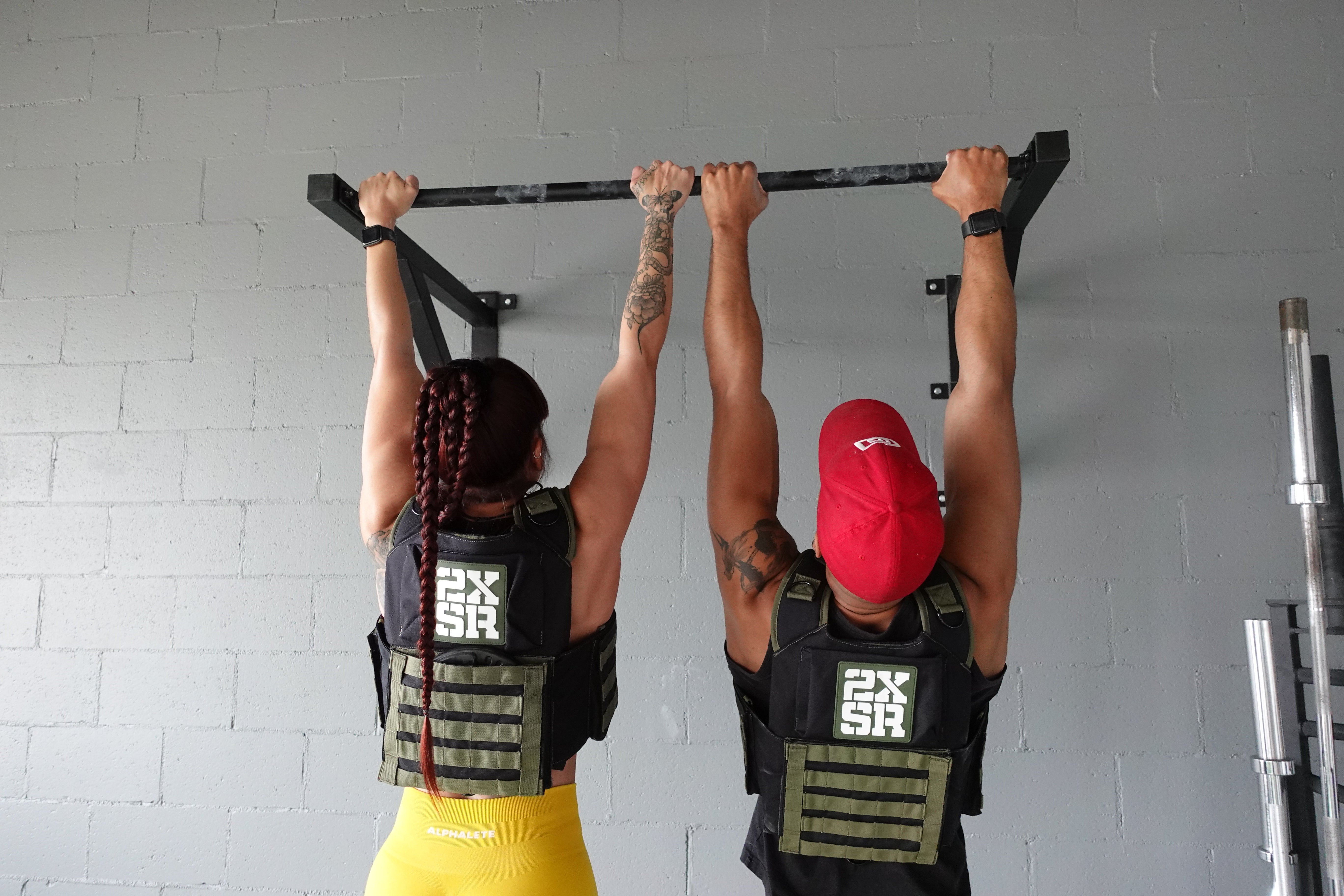 ZERO SKIN IRRITATION
The Training Vest is uniquely crafted to give the wearer an increased range of motion with a lightweight feel and comfortable with two layer padding and breathable mesh so you can:
Lift, run, hike, climb, crawl and swim without discomfort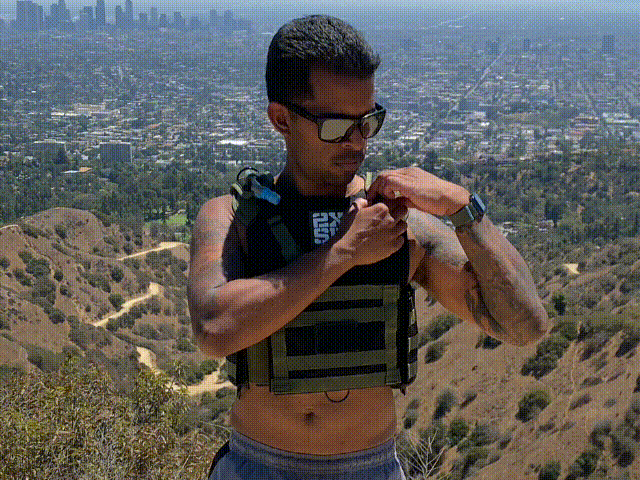 QUICK RELEASE
Drop sets consist of weighted exercises followed by decreasing weight or no weight at all. The Training Vest allows you to disassemble the vest within seconds for body weight exercises.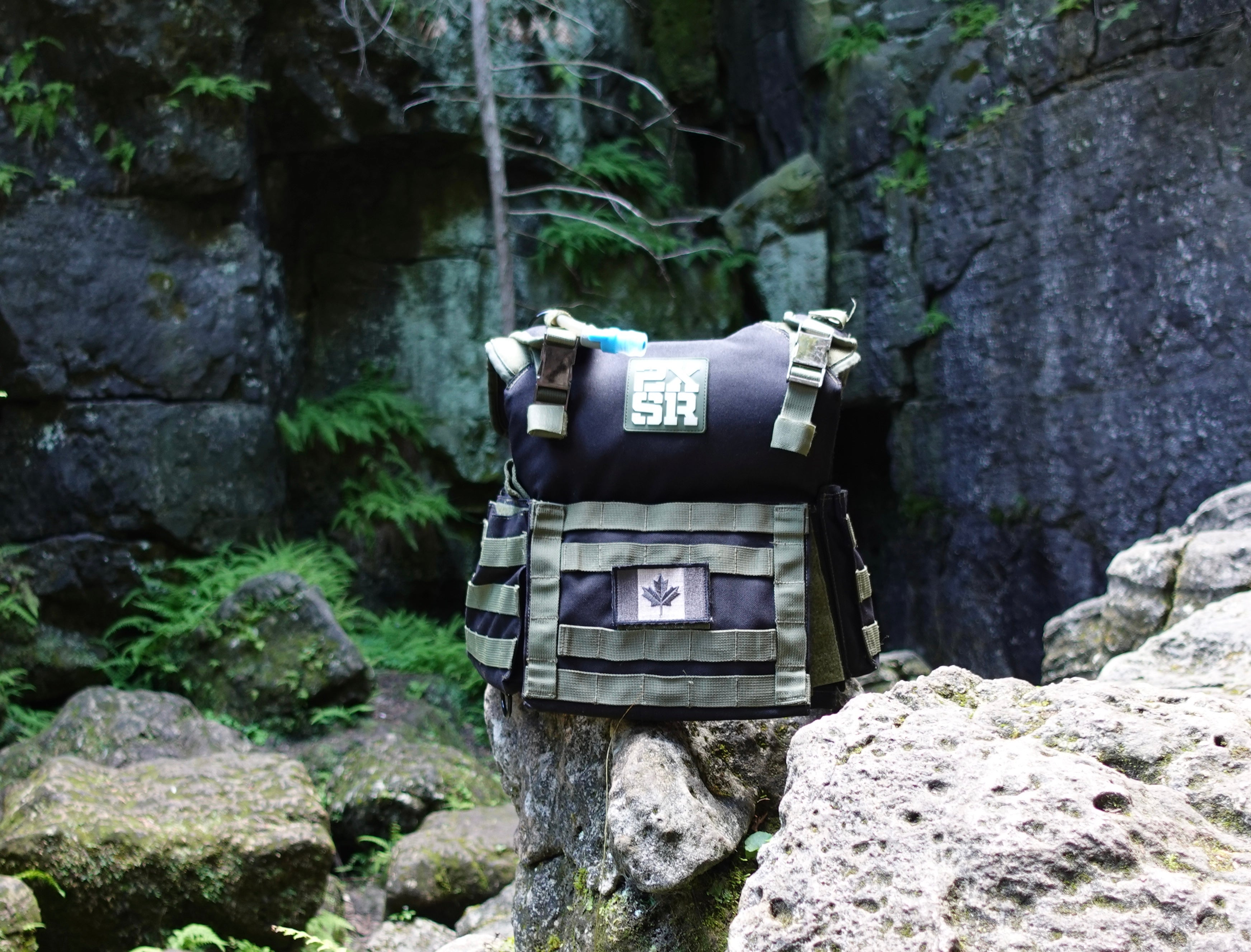 FEATURES TO OVERCOME THE PRESSURE AND STRESS ON YOUR BACK
A hiking backpack with all necessities causes pressure on your back, weighing you back from the next step. 
The 12 compartments allows you to distribute weight in the front and sides to keep all necessities available without pausing.
How much does the Training Vest hold?

According to the durability test, 100LBS. This means the maximum weight can be held is 100LBS around the entire Training Vest and not one section.
We provide 4 pouches holding at 2.5LBS each. You can fill it up with sand or pea gravel. The weight of the Training Vest is 2LBS. Metal plates can be inserted below the front and back panel. Two smaller metal plates can be inserted below the side panels. For full product specification, please visit: https://www.2xsr.com/products/training-vest
What size metal plates can be inserted and where?

11" Tall, 10" Wide, 5/16" up to 30LBS on the front panel and back panel.
Do you sell weighted / metal plates?

At this time, no. Unfortunately shipping would be almost 5x more than the product itself and we are 99.99% sure you do not want to pay that shipping fee. However, all panels have a bottom compartment to hold metal plates.
Is the hydration pack included?

In the combo, yes. At given times we will have promotions which may include a hydration pack at no charge! Stay subscribed to find out more!
What company makes the hydration pack?

Hydrapak. They are a reputable brand and we are grateful to team up with them!
What is the warranty on the Training Vest?

Please visit: https://www.2xsr.com/pages/warranty for full details.
What is the warranty for the hydration pack?

Hydrapak is responsible for all warranties relating to their product. Please visit: https://hydrapak.com/pages/warranty for full details.
Can you use the training vest underwater?

Yes. However, the Training Vest is not made / designed as a life jacket. Please only use 2XSR products at your own risk. If you are uncomfortable or hesitant at any given time, please do not continue. We are not responsible for any liability and/or death.
Can I use the Training Vest with the Sand Training Bag / Sled?

Yes! There will be a Training System 2.0 coming soon which includes the connecting strap to attach onto the Sand Training Bag to use as a sled.
How do I adjust the Training Vest to my size?

1. Lift the rear panel Velcro flaps and place the hook onto a molle to your appropriate size.
2. Firmly place over the side panel Velcro flaps onto the front panel.
3. Firmly tighten or loosen the shoulder strap to your size.
4. Use the metal buckles for reassurance.
The Training Vest is not bulletproof. We are not responsible for any injuries and/or death.
This product has no reviews yet.